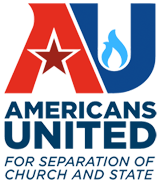 Two weeks ago, during markup of the National Defense Authorization Act (NDAA), the House Armed Services Committee┬áadopted┬áthe Russell Amendment last week.The Russell Amendment (attached) would require that every federal agency allow its religiously affiliated contractors and grantees to discriminate in hiring with taxpayer funds. The government should never fund discriminationÔÇöno one should be disqualified from a taxpayer-funded job because he or she is the ÔÇ£wrongÔÇØ religion or because he or she does not follow the same religious ÔÇ£tenetsÔÇØ as the employer. See attached for more background and talking points on the Russell Amendment.
During the Committee markup, Americans United for Separation of Church and State sent the attached letter to the Committee members in opposition to the Amendment. AU is now recirculating the letter for further sign ons, as we may use this letter again, if necessary, for when the House bill comes to the floor and for when the Senate committee marks up their version of the NDAA (scheduled for this Wednesday).
Please review the attached letter (which includes the two different options for how we expect we would need to use it in the House and the Senate). This letter is open to any organization. If you can sign the letter, please email Sam (sokol@au.org) know by Tomorrow (Tuesday, May 10) at noon.
Thanks everyone. Feel free to email Maggie Garrett at AU, garret@au.org or Leila Abolfazli (labolfazli@nwlc.org) if you have any questions about the Russell Amendment.