My Personal Internship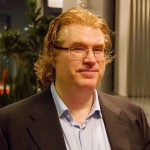 I'm Johnny Monsarrat, and I was once an intern for Edwina Rogers. Now I'm her Alliance Director at the Secular Policy Institute and run the volunteer and intern programs too.
Just my interview with Edwina two years ago changed my life. I had just flown into Washington DC. Edwina met me at her office but was on her way out to a meeting. Could I come along? Then we could talk after.
Sure, okay, I said. We arrived at an office building, and in the elevator up, she said, "Just watch Grover and how he conducts the meeting. You'll learn something."
Grover, I thought… Grover Norquist? The American tax reform heavyweight? This wasn't just any meeting. Edwina had nonchalantly brought me to the super exclusive weekly insider coordinating meeting of Washington DC's top Republicans. I felt like James Bond infiltrating a secret society. Amongst 40 of the most famous political operators in town, I was the only liberal, the only guy with long hair, and the only guy wearing blue jeans. And there were donuts.
Working with the Secular Policy Institute is like being bolted into a roller coaster that is duct taped to a Moon rocket, heading for Fame, Glory, and Power. You will have the experience of your life working with us.
Work in Washington… or Work from Home
You don't have to move to Washington DC to drive the secular movement!
If you ask the average person, "Is gay marriage an issue in society?" they will be aware of the debate. But if you ask, "What about separation of church and state? What about ending discrimination towards people who don't believe in God?" you will find that secular issues are not even on their radar. The secular movement has so far failed to impact the mainstream, and when we do, it's often in a negative, controversial way that increases discrimination.
The Secular Policy Institute is the organization with the philosophy, momentum, and executive power to make a genuine difference. We are more successful than other secular groups because:
We don't bash religion. Unlike many secular groups, we don't get shut out of government and media. We can partner with anyone.
We are true professionals. Unlike many secular groups, we don't want to settle for amateur anything. We emulate best practices of major organizations like the AARP, NRA, CATO Institute, Heritage Foundation, and American Cancer Society.
We are focused. Unlike many secular groups, we aren't vague about our plans. We take on giant, world-changing projects that inspire donors and volunteers, such as promoting an Indian rationalist's guide to Hindu scripture and raising money for the world's first atheist orphanage in Uganda.
We are thought leaders. We are the world's biggest secular think tank with Fellows and Advocates all over the world.
We organize everyone. We are the world's biggest secular coalition. Like the Bill Gates Foundation, we talent scout the best projects from our coalition groups and maximize their impact with management coaching, funding, promotion, access to our Fellows, and our contacts in media and government worldwide.
Now as an intern, you can get in on the ground floor of something huge that's going to change the world.
What You Get
Intense Mentorship. There are some skills you just can't learn from a book. Take the shortcut to learn the secret best practices that connect you to success, directly from SPI staff Edwina Rogers, former two-time White House staffer, and Johnny Monsarrat, DotCom entrepreneur. You'll learn to be an "operator" with the world-class skills to:

Discern the unspoken incentives that drive alliances
Get the attention of VIP decision-makers
Leverage that brief attention into a big YES
Seize the initiative on political reform
Get marketing campaigns to go viral
Present yourself to maximize your clout
Cut through the noise to effective strategic thinking


Take the plunge into an intense summer and you will emerge a master of your own future.

Instant Power Broker. Let us be frank. We don't have any entry level tasks. We don't treat our interns as juniors, and you will never find yourself making photocopies or setting up donuts for a meeting. You will take on an executive title on Day One and find yourself in a sink or swim situation!
Break Out of the Pack. In a stack of resumes, applying for a job, how many seconds of attention will you get? We'll give you a title and enormous responsibility. You'll have the chance to bet big on yourself and score a win on your resume that you can claim full credit for. You already believe in yourself. You just need someone to take a chance on you and help you stand out from the pack. We are on your side.
Keys to the World. Success should be about who you are, not who you know. But it doesn't hurt to have the hair-raisingly large network of Secular Policy Institute connections on your side. If you give us your time, we will put you in front of any VIP decision-maker in the world for your next job. You will have more than our recommendation. You will have a game-changing, almost unfair advantage over every other applicant. We will make you a star because we believe strongly in meritocracy and investing in people. But we also know the power of having friends in high places — and we want you to go high and be one of those friends!
Steer the Secular Movement. The Secular Policy Institute is unlocking the potential of dozens of interest groups that just need a boost, some direction, some funding, or some management training. Together we are building a heavy impact. Your voice will be heard by the most important leaders of our cause. You will set the agenda. You become the kingmaker. Help us decide which groups deserve our full attention and resources. Help us shape the shared set of goals that our coalition is based on.
Adventure. Go backstage at one of our world class events and meet the celebrities. Join us meeting politicians and presenting your plan for legal reform. It's the adventure of a lifetime. Don't discount the serendipity of working long hard hours with idealistic yet practical people. You'll have magical experiences and stories to tell for a lifetime. If you do come to Washington DC, it is a world class city with free museums and intellectual culture. Just like everyone in Los Angeles is working a movie script, everyone in Washington DC is trying to make the world a better place and has the skills and drive to do it. You are one of us. Spend a summer immersed in an entire city of people like you.
Plus you get that "we did it" feeling of building a better future: an end to discrimination against nonbelievers, more separation of church and state, and getting secular people a normalized, prominent place both in public discourse on law and morality, but also at home with friends, family, and coworkers accepting us for who we are.
How it Works
As part of our intern program, you don't start at the basement. You immediately become one of our executives. You sit next to Edwina and send out emails in her name, and take charge of our most important tasks, such as:
Identify donors and hear them out so fully that you find new insights about how SPI can inspire them to give.
Form the "administrative" layer that allows our Fellows and Advocates to helicopter into big projects without stress or worry.
Inspire coalition groups to greatness by "accelerating" their projects to a higher level.
Book speaking engagements and media appearances to strategically get our points to the public.
Reach out to new potential coalition members, Fellows, and Advocates
Form cross-promotional alliances with major bloggers and media personalities.
Organize and play editor to famous authors, creating world-class public policy recommendation papers.
Marshall all resources towards The World Future Forum, our version of the World Economic Forum at Davos.
Most interns take on a paying job part-time to get by, and then work 2 to 5 days a week in our office in Washington DC. Don't have that much time? Consider joining the SPI Volunteer Tiger Team instead.
Obviously, moving to Washington DC for a summer is not something that everyone can afford to do. We have a new program where you can work from home but on a "full time" office basis, communicating with us through Web conferencing. We will do everything we can to draw you into our team's community and make you feel that you are sitting right next to us. Your roles and responsibilities will be the same. We will just need to work harder on communication and team bonding. Depending on where you are based, you might be in the ideal location for some local action we hope to take in a country or a US state that needs special attention!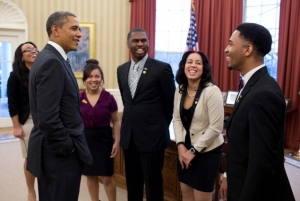 It's our job to talent scout the best people in the world, the ones who are ready for success and just need to be lifted up and given a chance to prove themselves. To apply for the internship, email Aaron at aaron@secularpolicyinstitute.net with:
A resume and links to writing samples, if you have them
A short statement of why you will flourish if given executive power
Between 2 to 4 references. We won't call without your permission.
The logistics of whether you can come to DC or will work from home, when you would be available, and how many days a week you can commit to
Your username on Skype for the first interview.
An internship should not be a slave program where you feel like a number. It is education and experience. At the SPI we are committed to giving you a life affirming, wonderful experience that you will tell all your friends about. Thank you for taking the time to consider an application. We look forward to hearing you!