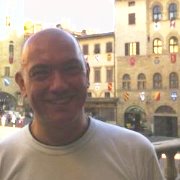 Hugo Estrella is Professor of Latin American Studies at the Peace Studies Course, University of Pisa (Italy), and Manager of the EAI Science, Innovation and Business (SIB) Council on ICT for Development.
His background is on social communication applied to development, post conflict institution building, and civil society strengthening through small and medium-scale enterprises (SMEs). His work has taken place in places as diverse as Nigeria, Israel/Palestine, South America, Central and South East Europe, and India.
His research investigates how to build more inclusive societies that are economically sound, democratic, and sustainable. He has written several published works on on development, science and society, and science and technology for peace.
He is the head of the Center for Inquiry, Italy (Centro per la Libera Ricerca ONLUS) and founder of the Argentine Ethical Humanist Association (Asociaci├│n Humanista Etica Argentina, "Deodoro Roca").