Fellow, Professor of Global & International Studies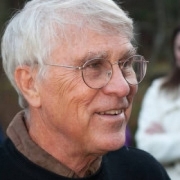 Mark Juergensmeyer is director of the Orfalea Center for Global and International Studies, professor of sociology and global studies, and affiliate professor of religious studies at the University of California, Santa Barbara. He is a pioneer in the field of global studies and writes on global religion, religious violence, conflict resolution and South Asian religion and politics. He has published more than three hundred articles and twenty books, including the recent ÔÇ£Global Rebellion: Religious Challenges to the Secular StateÔÇØ (University of California Press, 2008). An earlier version of this book was named by the New York Times as a notable book of the year. His widely-read ÔÇ£Terror in the Mind of God: The Global Rise of Religious ViolenceÔÇØ (University of California Press, revised edition 2003), is based on interviews with religious activists around the worldÔÇôincluding individuals convicted of the 1993 World Trade Center bombing, leaders of Hamas, and abortion clinic bombers in the United StatesÔÇôand was listed by the Washington Post and the Los Angeles Times as one of the best nonfiction books of the year.
JuergensmeyerÔÇÖs edited books include Rethinking Secularism with Craig Calhoun and Jonathan VanAntwerpen (Oxford University Press, 2011), A textbook, Thinking Globally will be published by the University of California Press in 2014. Juergensmeyer was elected President of the American Academy of Religion, and chaired the working group on Religion, Secularism, and International Affairs for the Social Science Research Council in New York City. Since the events of September 11th he has been a frequent commentator in the news media, including CNN, NBC,CBS, BBC, NPR, Fox News, ABCÔÇÖs Politically Incorrect, and CNBCÔÇÖs Dennis Miller Show.
Link for more information: http://www.orfaleacenter.ucsb.edu/