Fellow, Romanian Politics, Global Democracy & Environmental Policy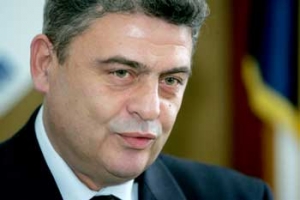 Dr. Silvian Ionescu has a Ph.D. in Materials Science and Engineering from Lucian Blaga University and a Ph.D. in Management from the Academy of Economic Sciences in Bucharest.  For 15 years, he served as Chief of Service for the Romanian Ministry of the Interior's Intelligence Department.  He was the General Secretary for the Democratic National Salvation Front Party in the early 90s, and recently, he served as President of the Democratic Liberal Party for the 3rd District of Bucharest.
Silvian┬áhas served twice as┬áSecretary of State and General Commissioner for the National Environmental Guard, and he now works┬áindependently as an Environmental Consultant. ┬áDr. Ionescu also invented POLIBEST,┬áa┬ácombination of two recycled materials–80% plastic and 20%┬áfibre cement–that results in a new, multi-purpose product, similar to any┬áplastic. ┬áThe asbestos typically found in the cement portion of the product has been┬áneutralized, making┬áthe material safely recyclable.