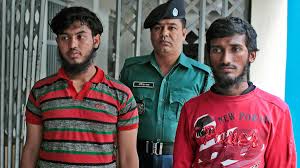 Does your secular group support free speech?
This sign-on letter continues┬áthe work of calling for the protection of the┬ágroup of writers in Bangladesh whose names appear on a terrorist-published ÔÇ£kill listÔÇØ. These bloggers and other secularists are being systematically butchered, and now, SPI and coalition members are requesting that the UN┬áHigh Commissioner for Refugees begin the process of initiating their eligibility for asylum.
Separate letters also went out with this request to the U.S. Department of Homeland Security and to the Department of State.
Letter to DHS Secretary                ***See the response from Jeh Johnson's office!***
Letter to Secretary of State
Letter to DHS Director of Citizenship & Immigration

Email edwina@secularpolicyinstitute.net to get invitations to future letters.