The weekly update on SPI Fellows, by Madeline Schussel and Johnny Monsarrat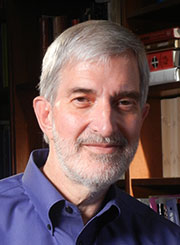 The Secular Policy Institute is pleased to announce a major new addition! New SPI Fellow Ron Lindsay is the President and CEO of the Center for Inquiry (CFI), one of the world's most prominent secular groups. The CFI promotes inquiry, research, education, and advocacy, with regional offices and programs around the globe. Lindsay holds a Ph.D. in philosophy and bioethics from Georgetown University, and a law degree from the University of Virginia. In his new book, The Necessity of Secularism: Why God Can't Tell Us What to Do, he presents a framework for how religious and nonreligous people should work together on public policy issues. (Hint: it involves more secularism.) Previously, he wrote Future Bioethics: Overcoming, Taboos, Myths, and Dogmas, which explores the morality of genetically modified foods, physician-assisted suicide, stem cell research, and other biological and medical issues.
Last month, SPI Fellow Phil Zuckerman published an opinion piece in the LA Times, How Secular Family Values Stack Up, citing Pew Research, as well as a study by Duke University. The article inspired a commentary piece at Jezebel.com, which lauds Zuckerman and notes that ÔÇ£the countries with the lowest crime and highest reports of well-being… are also the nations with the lowest religious engagementÔÇØ.
SPI Fellow Mark Juergensmeyer was mentioned this week in the Florida Times online, as part of an Op-Ed exonerating Islam for blame in acts of terror. Juergensmeyer, a professor at UC Santa Barbara, was cited as having attributed the Oklahoma City bombing and the 2011 Norway attacks to Christian terrorists within Christendom, but not to the Bible as an authoritative source. Both wereself-enlisted soldiers in an imagined cosmic war, the professor has said. In a stance opposed to SPI Fellow Taslima Nasrin who wrote on this last month. The Florida Times author uses the quotation to illustrate his point that the Quran, on the whole, teaches peace. He argues that violent-seeming passages have been taken out of context. Hopefully, Juergensmeyers own words have not been.
SPI Fellow Taslima Nasrin is out of danger, according to the English-language Indian daily newspaper, The Hindu. She tweeted a comment in 2013 on a meeting between Aam Aadmi Party leader Arvind Kejriwal and senior Barelvi cleric Tauqeer Raza Khan which allegedly hurt religious sentiments, an infraction under Section 66(A) of the Information Technology Act of 2000. According to the article, the legality of the act was challenged and the police filed to close Nasrin's case without penalty.