There has been a debate in Italy in the last few years about same-sex marriage. Initially deemed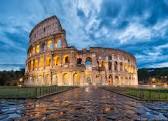 "nonconfigurable", same-sex marriage or civil union options have more recently been found to be supported and advanced by the Italian Constitution. Moreover, the European Court of Human Rights deemed it a human rights violation to deny the same legal protection to same-sex couple as opposite-sex couples, even awarding damages to those affected. In the wake of this historic event, the Italian Senate of the Republic just passed a Civil Union bill, which is awaiting approval by Italy's Chamber of Deputies. Let's encourage the Italian Deputies and the President to accept and recognize love in all its configurations, regardless of orientation.
Email CEO Edwina Rogers at edwina@secularpolicyinstitute.net to sign your group onto this letter today!