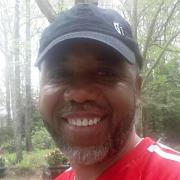 Jeremiah Camara was once a member of one of the largest Black churches in Cincinnati, Ohio, his place of birth. There came a time, however, when he began to distance himself from the church; not because of a particularly bad experience or negative incident, but because he had begun to expose himself to other forms of thought, spiritual concepts and ideas.
Jeremiah Camara returned to church, but this time as an investigator. Visits to churches of varying denominations, brought to light a common thread linking the vast majority. Mostly all, in his opinion, were preaching a gospel of powerlessness.
As the former owner of Word Up Bookstore, Camara created a videocassette documentary in 1989, Psychological Wars, which examined subliminal messages in sit-coms, cartoons and commercials that negatively impacted the psyche of African Americans. The documentary received international attention and endorsements by noted Black educators, NaÔÇÖim Akbar and Jawanza Kunjufu.
Following a long investigative hiatus, he rediscovered this same theological impotence when he moved to the Atlanta metro area, where he quickly discovered that church was big business. He knew then the time had come for him to write a book shedding light on the many psychologically crippling aspects within the church that keep Blacks in a state of ÔÇ£Holy Lockdown.ÔÇØ
He now is the author of the books Holy Lockdown: Does the Church Limit Black Progress? and The New Doubting Thomas: The Bible, Black Folks & Blind Belief. Camara is also the creator of the acclaimed video series Slave Sermons.
Jeremiah is also the producer, writer and director of the full-length, documentary film entitled, Contradiction: A Question of Faith. Contradiction explores the impact of religious loyalty and how an unyielding commitment to faith in an omniscient and omnipotent being is affecting society, particularly the African American segment.
Camara made the film seeking to understand the paradox of the saturation of churches in Black communities coexisting in the midst of poverty and powerlessness and if there is a correlation between high-praise and low productivity.
For more, see www.JeremiahCamara.com.