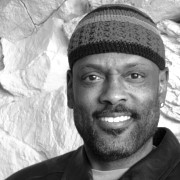 Comedian Steve Hill has headlined at clubs all over Los Angeles.
Born in poverty on St Louis' north side, Steve Hill has acquired a lifetime of experience in what it's like to grow up in America as an African American male.
After graduating high school in 1979, Steve continued in his father and brothers' footsteps and joined the United States Marine Corps. He served for 5 years, becoming a Sergeant, and moved to Los Angeles to work in the aerospace industry.
7 years later, he became restless for a more exciting endeavor and joined the California Department of Corrections (CDC). He gained insight into the system by working at 2 maximum security prisons for 10 years.
Due to a "slight" disagreement with the CDC, Steve was re-trained as a Real Estate Appraiser. He founded his own company, Anaverde Appraisal, in the Antelope Valley (in northern LA county) during the early 2000's real estate boom.
The mortgage meltdown and Wall Street corruption cemented his decision to speak for those in the middle class with no voice, lobbyist or advocacy group. With an extremely keen sense of humor, he hits the stage with a stand up performance that enables people to see relevant issues from a very funny, but drastically different, perspective.
Steve has set his sights on spreading his knowledge for the upcoming 2016 US elections. He performs as an activist all over the United States.
For more, see www.SteveHillComic.com.