Dr. John Joseph Kisakye, Fellow, Environmental Science, Parasitology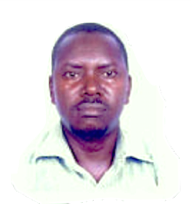 Dr. John Joseph Kisakye┬ácurrently serves as a Lecturer in the department of BiologicalSciences in the College of Natural Sciences at Makerere University in Kampala. ┬áHe┬áholds a Ph.D in Environmental Science and a MasterÔÇÖs in Zoology┬á(Parasitology), as well as Postgraduate Diplomas in Biology Education,┬áProject Planning, and Management. ┬áHis doctorate thesis work explored the diversity and ecology of dragonflies in the Bwindi Impenetrable, Mabira, and Mt. Elgon Forests.
Kisakye is an educator with particular interest in teaching Biology. His current naturalist research explores many aspects of human ecology, and he approaches all of his work as an avid humanist.