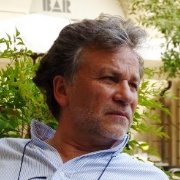 Holger H. Mey is Vice President of Advanced Concepts, Airbus Defence and Space, in Munich, Germany.
Before joining the company in 2004, which was then called EADS Defense & Security, and then Cassidian, Professor Mey worked for 12 years as a self-employed security policy analyst and consultant in Bonn. He also served as President & CEO of the Institute for Strategic Analyses (ISA). Frequently a TV and radio commentator, publisher, and lecturer, he is also an Honorary Professor for Foreign Policy at the University of Cologne, Germany.
Professor Mey began his professional career 1986 as a Research Associate at the Stiftung Wissenschaft und Politik (Foundation for Science and Politics). Then in 1990 he became a Security Policy Analyst on the Policy Planning Staff of the German Minister of Defense and in 1992 he became the Security Policy Advisor to the Chairman of the Defense Committee in the German Parliament. In 1992, he founded the ISA, directing and conducting more than 30 government studies.
He is a member of many international and national foreign and security policy associations, including the International Institute for Strategic Studies (IISS, London) and the Deutsche Gesellschaft für Auswär-tige Politik (the German Council on Foreign Relations, DGAP), in Berlin. He is also a Honorary Ancien of the NATO Defense College (NDC) in Rome.
Professor Mey has published more than 150 articles in major security policy journals, newspapers, and books. He is also the editor, co-author, or author of a number of books, including Deutsche Sicherheitspolitik 2030, 2001 (German Security Policy in the 21st Century, 2004).