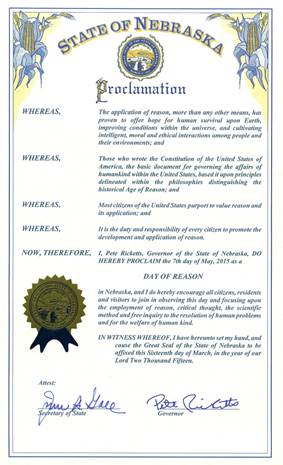 Political pronouncements can be symbolically powerful. Coalition member Omaha Coalition of Reason has gotten Nebraska Governor Pete Ricketts to proclaim a Day of Reason in the state. Rita Sanders, the mayor of Bellevue, Nebraska has followed and the mayor of Omaha is expected next.
Jase Heap, the new Executive Director of the United Coalition of Reason, an SPI coalition member, appeared on the Friendly Atheist Podcast this week. He explains his quest to become the first Humanist chaplain in the United States Armed Forces.
Two secular documentaries deserve your support! The first is Children of Faith Assembly, which features Josh Wilson, the survivor of a faith healing cult that caused the deaths of 100 people. Help him and filmmaker Jack Pennington track down those children of Faith Assembly to gather their stories. Second, you can help Mike Celestino of What Happens Next Productions film The Scully, a documentary that explores how skeptics are seen in popular culture. The title of course refers to the skeptic in The X-Files, a show that was all about giving the wink to the audience that mysticism is real.
Muslims needs support when they leave religion behind. SPI coalition member Ex-Muslims of North America serves this need with a welcoming and supportive environment for ex-Muslims, online and off, especially in the city of Toronto. The Toronto chapter has over 100 members and is still continuing to grow!
In 2012, SPI coalition member American Atheists filed a lawsuit (American Atheists v. Shulman) challenging the IRS's preferential treatment of religious organizations via tax exempt status. The lawsuit was dismissed, but American Atheists still isn't done. Learn about the lawsuit and stay tuned to find out what further steps American Atheists will take.
Just like America, Canada guarantees its citizens freedom of religion and freedom from religion. However, there are still municipal assemblies in which prayers, predominantly Christian, are conducted. Learn what SPI coalition member Canadian Secular Alliance is doing about this situation and how you, too, can help.
SPI coalition member Centre for Inquiry Canada's mission is to promote critical thinking and secular, rationalistic inquiry. The Chilliwack School District in Fraser Valley, British Columbia, which distributes Bibles to its students, seemed to be in dire need of a more secular and educational book. However, their attempts to distribute Richard Dawkins's children's book The Magic of Reality to 5th graders (ages 10-11) was met with resistance. CFI Canada has not given up, however!
Mid-West Humanists
is
challenging the blasphemy law in Ireland
. Learn about their efforts and, if you live in Ireland, what you can do to help.
Much of the schooling in Uganda is funded by religious organizations, and very few secular options are available. In fact, many children cannot even afford to attend school. Founded in 2008, SPI coalition member Uganda Humanist Schools Trust raises funds to build secular secondary schools in Uganda that largely serve impoverished rural areas. Read the latest news on the exciting developments on this ongoing project!
Skepticality, SPI coalition member and official podcast of┬áSkeptic Magazine recently conducted an exciting interview with Salon.com's Laura Miller about her book┬áThe Magician's Book: A Skeptic's Adventures in Narnia. Miller argues that you┬ácan enjoy literature– even if it contains religious undertones– even if you don't agree with the messages.
There are many difficult conversations– such as sex and death– that parents eventually have to have with their kids. But what if your family is of Jewish heritage and your child asks about the Holocaust? Where does one even begin explaining that horrific chapter in human history? SPI coalition member and humanistic Jewish organization┬áOr Emet┬áoffers a few ideas on its website about how to approach this difficult conversation.
Public libraries often have book displays based on a theme, such as holidays, classic stories, or historical events. But have you ever heard of a public library display with a humanist theme? SPI coalition member Humanists of Greater Portland has managed to put up displays of books for a variety of ages by humanist authors at several libraries. Learn about their efforts and maybe even read a book from their recommended reading list!
Summer is approaching! Do you live on the west coast of the United States? Are you looking for an exciting, secular summer camping experience for your child? Consider sending your child to Camp Quest West where he or she can enjoy traditional camp activities while learning critical thinking skills. This summer, SPI coalition member Camp Quest West will be holding its week-long summer camps in northern and southern California. Check out their website to find out about dates and learn how to register.
Irish atheist community and SPI coalition member