Last month, we reported to you that Oklahoma will no longer issue civil marriage certificates from clerks offices, in an attempt to stop gay weddings. As a side effect, it would also prevent atheists from getting married.
Now the Oklahoma House has approved legislation that grants immunity from civil liability to ministers who refuse to officiate a same-sex marriage.
House members voted 88-7 Thursday for the bill by Republican Rep. David Brumbaugh. The measure now goes to the state Senate.
What they don't know is that Humanist chaplains are happy to marry anyone!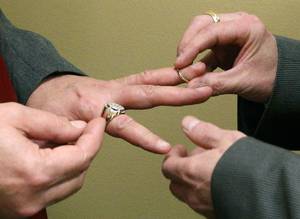 Learn more on NewsOK.com.