Weekly Policy Report
by Edwina Rogers
No Government Shut Down For Now
House and Senate Happenings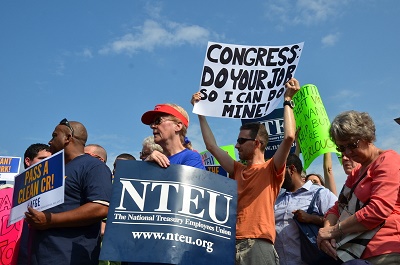 Senate Majority Leader Mitch McConnell scheduled a vote┬áon Monday┬áthat would fund the government┬áthrough┬áDecember 11th┬áthus preventing a government shutdown. ┬áThis was accomplished with only hours to spare during the last day of the fiscal year.┬á Mr. ┬áMcConnell pointed the finger at Senate Democrats stating, ÔÇ£It was part of some arbitrary strategy to force our nation to the brink…Moving forward will require Democrats to turn the page on bad habits and dysfunction.ÔÇØ In the House, legislation was carried by Democrats with a vote of 257 to 151.┬á With 186 Democrats and 91 Republicans in favor, the 151 no votes were cast by Republicans.┬á The Senate approved the legislation by a vote of 78 to 20.
ÔÇ£The American people deserve better than last-minute, short-term legislating,ÔÇØ the White House press secretary, Josh Earnest, wrote in a statement.┬á The temporary spending measure will keep the government operating at roughly last yearÔÇÖs levels ÔÇö a rate of about $1.017 trillion a year, with some notable changes for emergency situations, such as $700 million to fight wildfires in the West.
The vote would not end taxpayer funding for Planned Parenthood, but rather kick the can down the road for two-and-a-half months. ┬áÔÇ£WeÔÇÖll have to see. ThereÔÇÖs a number of issues weÔÇÖre gonna have to try to deal with over the coming month, but IÔÇÖm not going to change my decision making process in any way,ÔÇØ Boehner told reporters when asked about the debt limit.┬á ÔÇ£WeÔÇÖre gonna take this one day at a time and do what we can on behalf of the American people,ÔÇØ the Speaker said, ÔÇ£and IÔÇÖm not going to change my process at all.ÔÇØ
 Speaker Boehner Leaving Congress Next Month. Speaker of the House John Boehner, R. Ohio, announced after much prayer  that he would step down from his leadership position and retire from Congress at the end of October.  The abrupt decision comes after he faced heavy pressure from conservatives in his party to take a harder line on their causes.  Majority Whip Kevin McCarthy is seen as Speaker Boehner's successor. Mr. McCarthy is said to be favored by conservatives for his willingness to bend to his will.  This is not a positive event for many SPI agenda items.  What will he do?
While Mr. Boehner has expressed a desire to do as much as possible before he leaves Congress at the end of October ÔÇö ÔÇ£I donÔÇÖt want to leave my successor a dirty barn,ÔÇØ he said ÔÇö it seems unlikely that many of the big issues can be resolved before his departure.┬á The house is scheduled to be in session for only 13 days in October.┬á The race is on to determine just what can be accomplished in such a short time.┬á Minority House leader, Nancy Pelosi, D. California, told reporters that Mr. BoehnerÔÇÖs resignation was ÔÇ£a stark indication of the disarray of House Republicans.ÔÇØ
Here's what's happening: House leadership is now in turmoil, another debt limit hike is required this fall, not to mention a budget deal and a highway bill deal, and Republican presidential candidates Ted Cruz and Marco Rubio are openly challenging conservatives to stand their ground.  Even passing a clean CR, Continuing Resolution, to keep the government funded does not preclude the House from also passing bills to end taxpayer funding for Planned Parenthood.
A look ahead:  Continuing Resolution, Appropriations Committee hearings, TSCA (Toxic Substances Control Act), and Cybersecurity (not necessarily in order).
SPI to Comment on Proposed Federal Religious Refusal Regulations (faith-based institutions and grant-making and Section 1557)
The proposed regulations on faith-based institutions receiving grants apply to 9 different agencies and thus have an impact on a wide variety of programs –┬áhealth, social services, education,┬ájustice┬áprograms, international programs, Veterans Affairs, fair housing (HUD), the USDA, and the Department of Homeland Security. ┬áSPI plans to submit comments on how harmful it is to the beneficiaries receiving services to let the religious claims of the provider to prevent services from being delivered. ┬áAnd these are our taxpayer dollars that are used to pay religious charities to provide the services. ┬áThe proposed comments will be circulated for all coalition member groups to sign on.
Discrimination by residential services providers
The recent 8th Circuit case, Sharpe v. Burwell, involved a plaintiff that was a residential services provider for people recovering from substance abuse. I wanted to give people a sense of how dangerous it is for residential services providers like this to be allowed to object from contraceptive coverage and other things they feel are "facilitating" activities prohibited by their religion.
Many people with disabilities rely on religiously-affiliated, Medicaid-funded nonprofits for housing, residential services, and at-home services and supports. Without these services, people with disabilities are at risk of institutionalization (often in private, religiously-affiliated institutions like the one in Sharpe). Often, the only service providers in the area are religiously affiliated.
Disability service providers often must help dispense or administer medication to the people with disabilities in their care. For example, some people have mobility problems and cannot take medications without assistance. Other institutional providers, like the one in Sharpe, often don't allow people to keep their own medications with them and instead insist on holding and administering the medications. A nonprofit that objects to contraception could therefore refuse to help administer contraceptives to a disabled resident. A nonprofit that has a religious objection to gender transition may refuse to administer hormone replacement medications to a transgender person with a disability. Without such assistance, people with disabilities will be effectively unable to take their medications.
In addition, many residential service providers control who lives in a unit, and may effectively control who visits. They may refuse to house a transgender person in an appropriate-gendered unit, may refuse to allow a same-sex couple (or even an opposite-sex couple) to live together, may refuse to allow same-sex partner visitors, or may refuse to help their residents get transportation to visit same-sex partners or LGBT support groups.
The story of Dominick Evans, a disabled transgender man, wrote a stirring story about how traumatizing it can be for a home-services provider to refuse services due to their religious beliefs.  Read his story
In another case, a married (opposite-sex) couple was refused the right to live together in a group home, in part because the Catholic group home provider disagreed that they "should" cohabit together and felt that intellectually disabled people couldn't consent to sex. This objection wasn't initially phrased as a religious one, but easily could be. Moreover, similar objections could lead to denial of service for same-sex couples, unwed couples, or people with children.
Religious objections to the ADA
There have also been cases in which religious objections could be used directly to evade the ADA. One example is service animals. Many people with service animals have experiences with taxi or Uber drivers who did not want a dog in their vehicle, citing religious objections.
October 15th SPI to Discuss Religious Freedom for The Secular At DC Newseum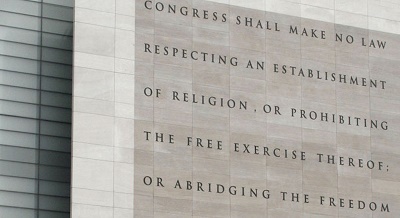 What about 'religious freedom' for the secular?┬á Is a guided tour of the U.S. Bill of RightÔÇÖs First Amendment by SPIÔÇÖs own CEO Edwina Rogers.┬á Whom does the First Amendment really protect in todayÔÇÖs practice?┬á Language is key, with the title ÔÇ£Religion and ExpressionÔÇØ was the aim of the founding fathers to protect religion or to protect the state from religion?
Edwina will be speaking at┬áÔÇÿFreedom of religion: the forgotten liberty?ÔÇÖ┬á,the First Amendment conference in Washington DC on Thursday 15 October. Get your tickets┬áhere.
Climate Change and the Pope
During his congressional address, Pope Francis urged lawmakers on both sides of the aisle to┬ámake a "courageous and responsible effort" in addressing climate change, arguing that this is an issue that will impact us all.┬áPRRI's climate change report┬áreveals that Americans think climate change will indeed be a serious threat –┬áat least for other people. Americans are twice as likely to say that climate change will impact people in poorer developing countries a great deal (54 percent) as they are to say it will impact them personally (24 percent). ┬áA big thank you from SPI to PRRI for this relevant opinion poll research.
What Will Happen To The Evolution Disclaimer In Alabama's Textbooks?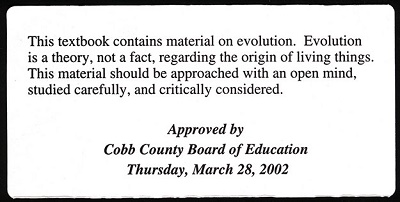 Alabama board of education voted to approve a new set of science standards on September 10, 2015, in which evolution was described as "substantiated with much direct and indirect evidence," the question arose: what will become of the evolution disclaimer in Alabama's textbooks?
According to the Washington Post, "state officials will have to decide what to do about the adhesive label that every high school biology textbook has been required to carry since
2001, a warning emphasizing that evolution is a 'controversial theory' that students should question."  The original warning started in 1996.  I received my undergraduate education in Alabama but was not subject to this nonsense as I graduated from the University of Alabama in 1986.  This shows how we can move in the wrong direction even as we move further into modernity.
What does the sticker so boldly say?┬á It states [that] ÔÇ£No one was present when life first appeared on earth. Therefore, any statement about lifeÔÇÖs origins should be considered as theory, not fact.ÔÇØ It tells students ÔÇ£there are many unanswered questions about the origin of life not mentioned in your textbook.ÔÇØ
The Montgomery Advertiser editorially called for the insert disclaiming evolution to be removed, writing, "Alabama appears to be the only state that allows such anti-science disclaimers, another stain on its poor reputation for educational quality and a not-so-subtle disincentive for some teachers to fully present evolution as fact in the classroom. It's time to rip off the stickers."