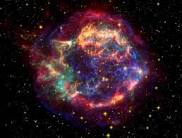 This week, two unlikely collaborators came together to share and embrace each
other's perspectives on two vastly different topics: science and faith. The event occurred this week in Curitiba, Brazil, with a high-ranking Vatican cardinal and a Dartmouth College professor.
Dr. Marcelo Gleiser, a theoretical physicist from Dartmouth College, and Cardinal Gianfranco Ravasi, the President of the Pontifical Council for Culture, met for a discussion and debate. The work represents a Pope-initiated program called "The Court of the Gentiles", where church leaders meet with world leaders and leading academics to discuss some of the most potent issues of the day.
While stem cell research and the dual role that morality and secularism can play alongside each other represent a few of the topics, the discussions can go so far as that of society's rapid march towards transhumanism.
By the end of the night, as a result of their discussions the two agreed that from the philosophical underpinnings of the matter, faith and science were quite different matters, as faith could be reasonably asked to provide substantial proof of the existence of god or to provide religious texts which explain, scientifically, the explanations of natural phenomena.