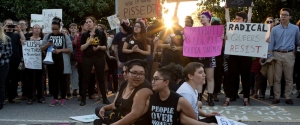 Three members of the LGBT community, with the help of the ACLU and a state advocacy group, are suing North Carolina over the state's new law that prohibits transgender people from using public bathrooms that match their gender identity. Most (66 percent) North Carolina residents favor laws that would protect gay, lesbian, bisexual, and transgender people against discrimination in jobs, public accommodations and housing.
Republican leaders pushed the law in opposition to a recent law passed in Charleston, which favored LGBT rights in bathrooms.
Governor Pat McCrory had this to say on the matter:
ÔÇ£The basic expectation of privacy in the most personal of settings, a restroom or locker room, for each gender was violated by government overreach and intrusion by the mayor and city council of Charlotte.ÔÇØ
Meanwhile, in Georgia, it is a different story.
Under increasing pressure from major corporations that do business in Georgia, Gov. Nathan Deal announced he will veto a bill that critics say would have curtailed the rights of Georgia's LGBT community.
The bill — HB 757 — would have given faith-based organizations in Georgia the option to deny services to gay, lesbian, bisexual and transgender people. Supporters said the measure would have protected religious freedom, while opponents have described it as "anti-LGBT" and "appalling."